Flexfurn
How our digital asset management platform helps Flexfurn streamline their digital media management

Back to overview
Problem
Flexfurn's marketing department needed a central platform to centralise all digital content.
Solution
A digital asset management platform integrated with Flexfurn's webshop
Using Mediahaven, Zeticon's digital asset management (DAM) platform, Flexfurn has managed to streamline and optimise their digital media management. The DAM allows them to ensure better customer service to their many external partners and customers. Zeticon offers a cloud-based central DAM platform that can be used for various purposes such as marketing, communication and archiving. This allows different services and teams to work together in the same platform.
About Flexfurn
Flexfurn is a Belgian company focused on designing and manufacturing flexible and durable furniture solutions for events, hospitality and other professional applications. The company offers a wide range of products, including stackable chairs, tables, bar stools and lounge furniture. Flexfurn's furniture is designed with functionality, comfort and durability in mind. They are made of high-quality materials and are easy to transport and store. Besides manufacturing furniture, Flexfurn also offers comprehensive customer service, including advice and support on choosing the right furniture for specific uses and events. The Belgian company is well established in their field and has customers all over the world!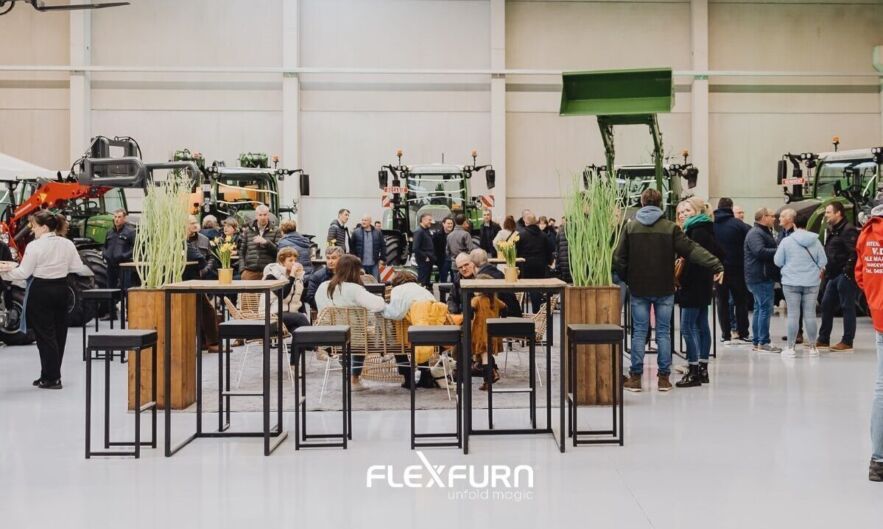 Challenges
Quality digital content is of great importance to dealers (distributors), partners and end customers as well as their own sales team. This is why Flexfurn has a wide range of content available: from product and inspiration photos and videos to technical datasheets and other information about the furniture. After all, the sales team not only shows a product picture, but effectively displays the furniture in a particular setting or concept. In this way, dealers and end customers get a clear picture of the many possibilities for which Flexfurn's furniture solutions can be used.
This means that the marketing team has to make a large collection of digital content available to the various stakeholders. To efficiently maintain this rich collection of content, Flexfurn was looking for a sustainable central platform to manage and access their digital assets.
On top of that, it is of utmost importance that the platform is well integrated with their webshop CMS. The DAM platform should act as a central platform to feed other channels such as Flexfurn's webshop. Through an integration between the digital asset management platform and their CMS, they want to be able to deliver the right content at the right time.
We were looking for a solution where we could quickly and easily share product photos, mood photos, videos, technical sheets and other relevant marketing content with our external partners. And all in line with our brand guidelines.
Flexfurn delivers ultimate customer experience with Zeticons platform
Many of their partners ask for inspiring images to show to their customers. By providing access to externals in the DAM solution, Flexfurn thereby ensures low-threshold and excellent customer service. What benefits does this offer Flexfurn and its customers?
- Quick and easy access to a wide selection of marketing content (product images, videos, technical sheets, inspirational images...).
- Faster and better response to customer requests
- The right files are quickly found thanks to extensive search and filtering capabilities.
- Guarantee of consistency and quality of digital media content.
- Intuitive interface that external users can quickly find their way around.
- Integration with the webshop and easy user management.
Flexfurn also has
full control
over which assets they want to show to their users. In MediaHaven, digital assets can be fully managed and controlled and certain images or technical sheets can only be visible to internal staff. This way, marketing content is always up-to-date and new additions or changes can be processed quickly.
We store all our marketing content in it. Now both our external partners as well as the internal staff themselves can easily download the latest assets. We no longer waste time emailing back and forth to share content.
On top of that, dealers and other interested parties can easily create an account via their website. This gives them quick access to the DAM platform, which Flexfurn has renamed the download centre.
Increased productivity within the organisation
File sharing is much easier and more efficient because all digital content is in one central location. This leads to increased productivity and better communication between the marketing department and other departments within Flexfurn such as the sales department. The DAM solution acts as a single source of truth for all content. This ensures everyone can work with the correct and latest information.
Integration between DAM and the webshop (CMS)
Once a partner or customer has found inspiration, it is also important that the purchase of the chosen furniture runs smoothly. Here, too, our digital asset management platform provides a handhold. The product photos and accompanying sheets on the webshop are linked to the content on the platform.Integrating a Digital Asset Management with a Content Management System can offer many advantages, including:
- The buyer quickly recognises the right products and seamlessly connects the purchase to them.
- Consistent brand experience: a single source of truth.
- Streamlining content creation and management.
- Better security: DAM solutions provide security features such as access control and secure storage of digital assets. By integrating the DAM with a CMS, users can ensure that only authorised people can access digital assets and that they are stored and managed securely.
Zeticons platform contains all the functionalities we need, it does what it needs to do. It also has a very visual interface. We are very satisfied with MediaHaven. The platform is intuitive and reliable. In case of questions, we always get the right help quickly from the technical support as well.
A long-term collaboration between Flexfurn and Zeticon
Flexfurn has been using the MediaHaven platform for several years. Our collaboration is invaluable to the company and over the years we have already built a strong relationship. As they grow, we think along with them and look together at which new features could be interesting for them.
References
These companies are already using our services
Follow in their footsteps and save time, money and energy.