Building trust in a digital world
We help you ensure that you can have all your documents signed digitally and securely.

Fast, easy and secure digital signing
Say goodbye to the time-consuming hassle of printing, signing, scanning and sending documents. With digital signing, you take a necessary step in the further digitalisation of your business processes. And for this, you have come to the right place! Our team has been implementing digital signature solutions for years.
With our digital signature platform, you can sign all your documents quickly, easily, securely and in full legal force in just a few steps. On top of that, you can also save the signed documents in our platforms.
On top of that, you can also save the signed documents in our platforms.
Your all-in-one signature platform
From creating a document and sending it to the signatories to monitoring the status: we support you from start to finish. So documents never get lost and you can focus on other things.

Our solution is designed to quickly optimise the processes by which companies deliver, review, approve, sign and store their business documents.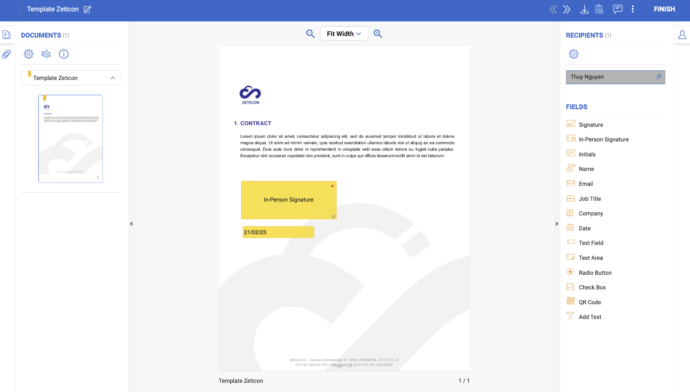 Key features
Everything you need for easy digital signing
Our intuitive signature platform offers a range of efficient and flexible functionalities for your digital signature process: from creation to signing and management.
Seamless integration with your other business processes
Our products are aligned so that your signed documents can be stored in our information platform. This way, your documents are immediately in the right place for long-term retention and can be easily retrieved.

In addition, you can use our extensive REST API to streamline even more work processes. Automate and work more efficiently by linking to apps such as SharePoint Online, Salesforce and others.
Varied range of electronic signature methods
Simple, advanced or qualified electronic signatures
Zeticon supports three levels of electronic signature: basic, advanced and qualified. A higher level offers more confidence and non-repudiation.
Depending on the level, we offer different methods for signing documents.
Upload a scan of a written signature
Scribble with your computer mouse
E-ID (Belgium)
Tokens/smartcards
ItsMe (Zeticon is a partner of Belgian Mobile)
Seals (for businesses and natural persons)
Together we select the right type of signature for your organisation!
Basic
Immediate signing without user registration or certification necessary. This is, for example, a typed name or a scribble with your computer mouse. Note that integrity and authenticity are not guaranteed.
Advanced
A signature uniquely linked to the signatory. This type of signature has a high level of trust. Any subsequent change can be detected.
Qualified
A signature via a recognised qualified method and provided with a certificate that additionally supports the authenticity of the signature.
FAQ digitaal ondertekenen
What is a digital signature?
A digital signature is a special code added to a digital message or document to ensure that it is authentic and has not been altered. Think of it as a seal or stamp that proves that the person who sent the message is really who they say they are, and that the message has not been tampered with in any way. This is important when signing important documents online or sending confidential information over the internet. This way, you ensure that your information remains secure.
What methods of signing does Zeticon offer?
We offer 3 different types of signatures based on the eIDAS regulation:
1. Basic or simple electronic signature: upload an image of your signature, draw a nice signature with the computer mouse, type your name.
2. Advanced electronic signature: advanced company eSeal and advanced personal certificate.
3. Qualified electronic signature: eID in Belgium and other IDs, Itsme and qualified company eSeal.
Are e-signatures legally binding, for example in Belgium?
Yes, digital signatures are legally binding in Belgium. The legal framework for electronic signatures is set by the Belgian law of 21 July 2016 on electronic identification and services (the "eIDAS regulation"). This regulation sets out the legal requirements for electronic signatures and provides a framework for the use of electronic signatures in various contexts, including commercial transactions, public services and legal proceedings. In Belgium, a qualified digital signature that meets the requirements of the eIDAS regulation is considered equivalent to a handwritten signature and has the same legal effects. However, it is always advisable to consult legal counsel to ensure compliance with local regulations and fully understand the legal implications of using digital signatures.
Request a free demo
Ready to get started with digital signing?