Case Belgian Defence
Migration to a more user-friendly DAM

Back to overview
Customer
Belgian Defence - Flemish Government
Problem
Outdated and unfriendly Media Asset Management System
Solution
Migration process to a user-friendly Digital Asset Management platform
The Belgian Defence was founded in 1830 and serves as a centre of expertise, where the foundations for a successful future as a volunteer or driver are laid and where job satisfaction and commitment are created. The Ministry of Defence uses all human and material possibilities to teach students the necessary competences to become a soldier or a military driver.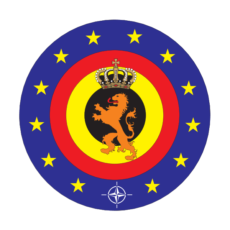 Use case
Every year, the Belgian Defence Forces send dozens of photographers and videographers to conflict-affected areas at home and abroad. The recorded digital media are used both internally and externally. The latter mainly for press purposes. For example, if the VRT needs a high resolution picture of an F-16 for its news broadcast, they contact the Defence Communication Service.
Because all digital media are collected in a Media Asset Management (MAM) system - which is connected to a digital portal for distribution - an adequate solution is crucial. Because Defence's current MAM system was very outdated, a new approach was urgently needed. Together with our partners DigiNet and Calibrate, we delivered a brand new and high performing solution. Let's take a closer look!
Problem
OUTDATED SYSTEM WITH ONE-SIDED FOCUS
Until now, the Belgian Defence used a system that was mainly suitable for video images. However, more than 200,000 images were also stored on it. It soon became clear that a system supporting various media formats had to be configured and implemented.
Moreover, the MAM system was not user-friendly. It took far too long to retrieve files, everything had to be done manually, the total storage capacity was insufficient and maintenance was cumbersome. In short, a thorough update was needed.
Solution
SYNERGY BETWEEN THREE STRONG PARTNERS
Because we always want customised work, we went in search of the right and suitable partners for this assignment. After all, we aim to deliver something where the whole is greater than the sum of the parts. And so we ended up at DigiNet and Calibrate. Starting from an existing standard platform, the former played a leading role in this project, providing the necessary hardware and an AVID production environment. We then delivered the Media Asset Management (MAM) system - MediaHaven, whereby the distribution of the digital media was made possible via a Drupal portal as provided by Calibrate. Strong together!
FROM ANALYSIS TO MIGRATION
Starting with an in-depth audit, carried out by DigiNet, various problems, needs and requirements were identified. Based on this analysis, the hardware and servers needed and the data and metadata required were determined. After DigiNet had completed the full planning, we could get down to work.
As MediaHaven was initially designed to be integrated with existing systems, the production environment was linked to MediaHaven via seamless workflows.
This allows the communications department to quickly retrieve the media they need for their production platform directly from the centralised MAM. The new content is stored directly in the MAM, creating a more efficient environment overall.
Since the MAM system is only available to people within the Defence Communication Department, a digital portal is absolutely essential for distribution purposes. Using Zeticon's REST API, the MAM system was connected to a portal created by Calibrate. In this way, both internal (e.g. Military) and external parties (e.g. Press) have easy access to the desired digital media.
Furthermore, we configured customised metadata profiles based on the feedback we received, prepared the entire migration process and held workshops on the use of the new MAM system.
Result: More efficiency, less time wasted
The multidisciplinary pact has borne fruit. We can safely say that the joint efforts have resulted in a robust and high-performance system for the Belgian Defence Force.
An installation that allows you to easily retrieve and exchange digital media items. Something that allows the communications department to work much more efficiently and lose much less time. And because we always want to provide our customers with a total package, our services are not limited to delivering the desired end product. We keep in touch with our customers and offer support when needed. They can always easily reach us for further questions, we carry out the necessary updates and several of our employees give workshops on the use of the newly implemented systems.
References
These companies are already using our services
Follow in their footsteps and save time, money and energy.