Digital asset management
With a Digital Asset Management system, you manage all your digital files in a secure and centralised environment, thereby increasing your work efficiency.

Organise your files efficiently
Zeticon's DAM is known for its extremely intuitive and user-friendly interface. Without any technical knowledge, you and your colleagues can get started immediately.
Preservation of the original in different locations
Automatic creation of thumbnail and preview of your file
Automatic check for duplicates
Possibility of creating your own collections
Define your own categories and topics with albums
Metadate videos, images, etc. to optimise retrievability
...
Find your files in a flash with Zeticon's powerful search functionality:
Search and find in no time
Quik and easy search
Find the right file quickly and efficiently. The powerful search function makes it easy to find your file, regardless of its location in the DAM.
Filtering
Filters offer you the possibility to search for certain objects in a more targeted way. Standard filters are provided, but we also offer the possibility to create customer-specific filters.
Advanced search
Do you want to search in more detail? You can! Search by author, categories, date, you name it. You can include or exclude values to further refine your search.
Saved Searches
Do you often have to look for the same assets? No problem? Save your search, recall it within a few clicks and share your search with your colleagues.
Sorting
Want to see which assets were last published, changed or are most relevant to you? You can! With our platform, you can indicate the results with the desired sorting.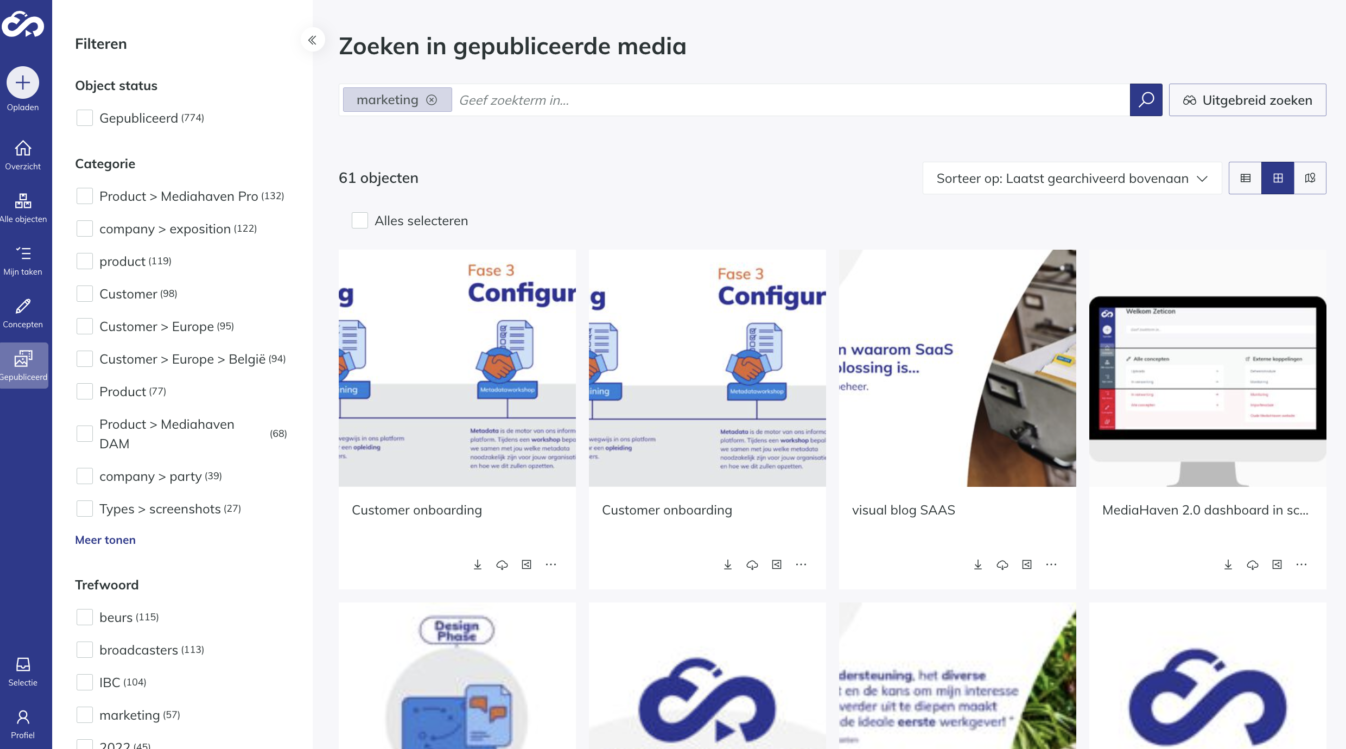 Make your files searchable and add metadata
Without metadata, there is no digital asset management. Metadata means that you describe digital media files and their contents by means of additional data. By assigning metadata, an object can be searched for easily and quickly. In our DAM, we offer various options for metadata objects.
Automatic tagging
Through image recognition, tags or keywords are automatically displayed as suggestions. This helps you to assign additional information to your assets and increase the retrievability of your objects.
Inheritance
When you add an item to a collection, no matter what stage or state the item or collection is in, certain metadata from the collection is inherited to the underlying items.
Geo tagging
Want to know where the images were taken? We can also easily add that to your object via geo tagging. This can be done automatically or manually.
Thesaurus
Thanks to the thesaurus, synonyms and translations can be assigned to each term. This ensures that when people search for certain synonyms or other languages, the objects can be found quickly by anyone.
Linking content and establishing relationships
Keep track of the path of your files. By establishing relationships between image A and document B, you are always aware of how your digital assets are related.
Evaluation flow
Quality control is a crucial aspect of charging and managing objects. Quality control often involves several colleagues, which can quickly lead to a loss of overview. Our evaluation flow offers you several advantages:
Transparent communication and cooperation with colleagues from one central platform
A streamlined approval process with multiple roles (importer and content manager) where each role has to perform specific tasks
Quality control of the metadata ensures even better traceability of objects
Time saved through faster feedback and approval
User-friendly, intuitive flow and task list provide a clear overview
Don't waste time sharing
Share your digital assets easily with your team members and external parties. With our Digital Asset Management solution, you can share assets instantly and quickly in multiple ways:
via a shareable link
advanced download options
embedded links
various export locations
etc.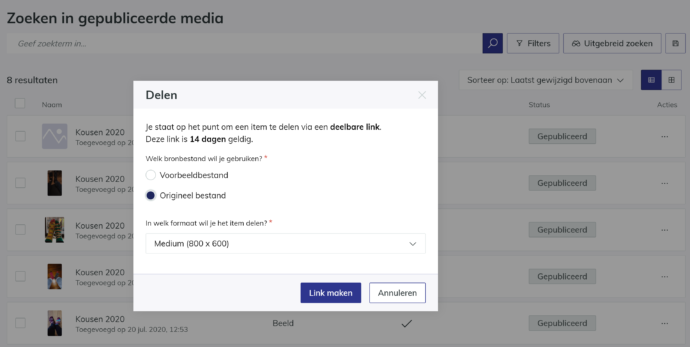 Complete control through user rights
Want to be sure the right people have access to the right data? Zeticon's Digital Asset Management system has a comprehensive security model based on roles and groups where access to assets such as images and/or documents can be regulated.
With the advanced rights management possibilities, you determine who can see, edit and/or download which assets, and which users can perform which actions or functions. This way you keep full control over user rights.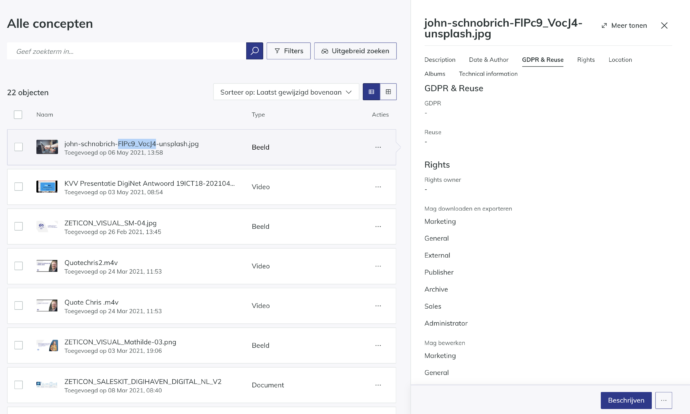 Integrations
Integrate your DAM with your other tools and create an efficient working environment!
Frequently asked questions
Can the assets be made publicly available?
Within our platform, there is a complete security model that allows you to decide which assets can be seen, edited, deleted or stored by whom.
Can we set fixed retention periods for a document/media file?
This can be set when metadataing a media file. The rules for this depend on the client. Classifications can be used.
Does the solution have an API to communicate with other solutions?
Zeticon applies the "API first" philosophy. This is guarded and guaranteed by the fact that Zeticon itself uses this API to build its user interfaces. As a result, the standard functionalities are also accessible from external applications.
Can you provide an overlay or logo when downloading?
For export locations, this is a parameter and you can opt for a watermark.
Didn't find what you were looking for, see all frequently asked questions.