A day in the shoes of a software engineer at Zeticon

Back to overview
Since six months, Azize has been joining our team as a software engineer at Zeticon. She helps to drive our platforms. Together with the team, she ensures that existing functionalities remain stable and lays the foundations for new functionalities in our products. We looked back at those first intense months with her and walked a day in her shoes. Our day starts, how could it be otherwise, at the coffee machine.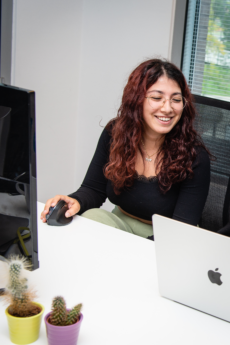 Hey Azize, tell me, how did you actually end up at Zeticon?
Like so many recent graduates, I had changed my status on LinkedIn to "Open to work". After a few days, I was contacted by a recruiter and received several proposals. At the first interview with Zeticon, it was an instant hit. The atmosphere was very open and Zeticon's approach of quickly seeing colleagues from your team was nice. At the second interview at the office, I was immediately explained the products and everything became less abstract. When asked about the technical part, I was a bit stressed, but fortunately everything went well. I immediately felt comfortable with everyone and saw the opportunities to learn a lot. The feeling was clearly mutual because after just an hour and a half, I received a proposal on the spot. Since this was live and not via mail or phone, I saw the genuine enthusiasm in everyone. How can you say no to that!

I felt very comfortable at the job interviews, and got the chance to meet future team members
You got other proposals I hear, which certainly doesn't surprise us, but why did you just choose Zeticon?
Zeticon was the only product company and that really appealed to me. That's how I want to collaborate on a product and also see it grow. I would like to be able to see my long-term impact, feel free to call it building my legacy within Zeticon. A pure consulting company didn't appeal to me as much because you often don't work on the same project for as long.

How does your day start as a software engineer?
The first thing I do is check my e-mails, then I check whether all the environments are set up properly. It sometimes happens that a code change from the day before breaks a few things. I process and review feedback from colleagues on my code changes. At 10am, we hold a "stand-up" with the team. We go over all the stories so everyone can say what is going well, where help is needed and whether any urgent issues have come up. If necessary, we also shift priority.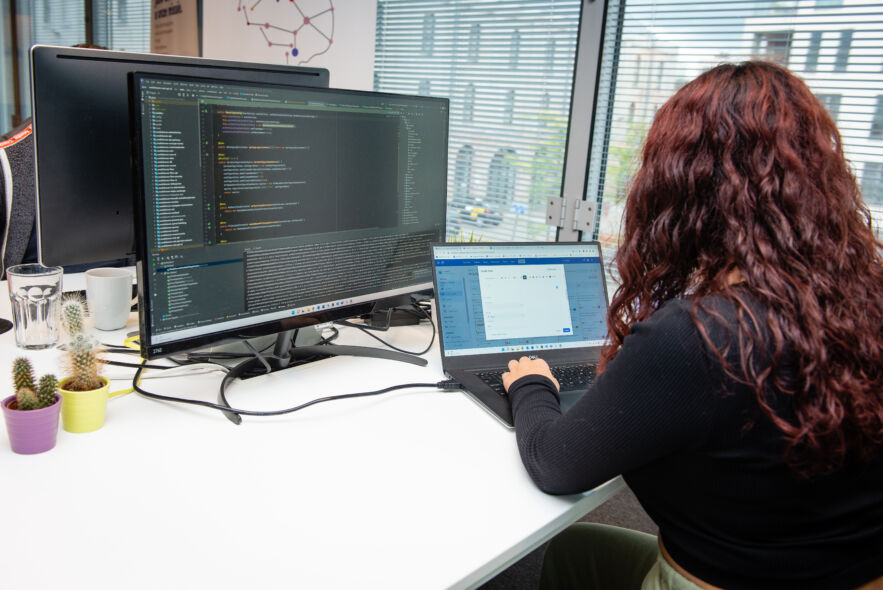 And the rest of your day?
After a morning in full focus, I really enjoy having lunch together with the whole team. A free lunch by the way because we are treated to sandwiches and lots of toppings every afternoon! During lunch, I also hear what is going on at Services or with the Information Managers. Often we also take a relaxing walk to get some fresh air. Today is Thursday, which means we will soon have a grooming meeting. In this meeting, we discuss which new features we will include in the coming weeks. There is time for questions and we estimate how much work something will take.
What do you love about being a software engineer at Zeticon?
It's in my blood that I like taking on challenges and wanting to solve problems. At Zeticon, we don't just work on one product, but on multiple products. This creates a lot of challenges!
In addition, I have the freedom to choose which story I want to tackle and I get the right guidance if it is a story in which I still need to broaden my knowledge. This way, I also learn a lot. Of course, we have to follow certain rules, such as the priority and scope of the story, but that is also necessary.
Recently, I also had a feedback moment to look back on my first months. I was a bit nervous, but everything went very well. Together, we discussed my long-term and short-term goals and what concrete steps we could take together to achieve them. This resulted in me being service contact within our team for several weeks. The service contact forms the bridge between the service team and the developers. If there are questions from customers that require a deeper technical analysis, the contact jumps in. That way, we can switch quickly in case of problems and everyone can keep their focus, while I get to know the customers' questions and experiences.
So you also see yourself working here for 10 years like Alexis, our system architect, for example?
Yes! This is also what makes working at Zeticon so interesting. The team is a good mix of people with several years at Zeticon and recent graduates like me.

At Zeticon, we don't just work on one product, but on multiple products. This makes for a lot of fun challenges
Who can you turn to for your questions and problems?
In our team, we also have our scrum master Bart. He regularly checks whether everything is going well and whether I have questions or not.
You work in a shared office with other Cronos competence centres. How do you experience this?
I really see working in the shared Cronos office as an added value! It allows you to come into contact with people from other companies and learn how they do things.
As a final question, do you have any tips for people who want to start in the same position or who, like you, have left school looking for the perfect job?
There are a lot of IT jobs available, but you have to decide for yourself what you consider important in your future job. For example, I drew up a chart with the pros and cons. This helped me tremendously! So seize your opportunities and make up your mind what you want.
Application
At Zeticon, we are always looking for motivated colleagues to strengthen our team. Do not hesitate to send us your CV!